Details

Created on Thursday, 03 December 2015 17:59
Written by John Davis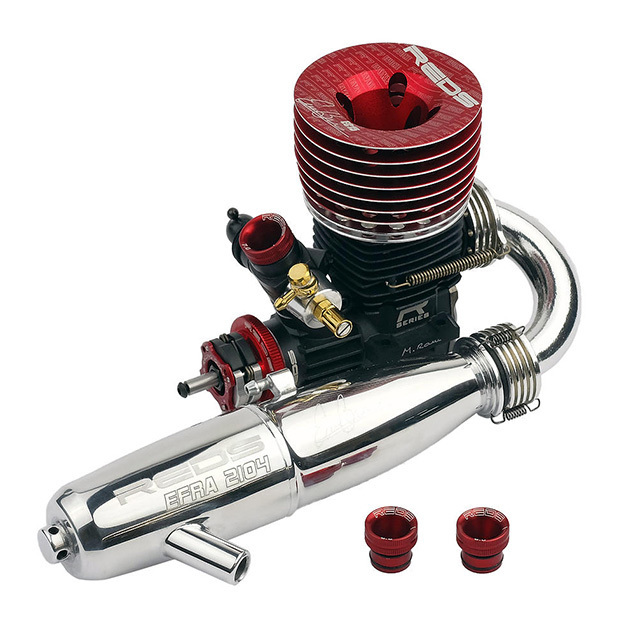 R7E EVOKE EUROS LIMITED EDITION
EUROS LIMITED EDITION combo celebrates the Euro Warm Up and European Championship TQ&Win in Sacile IT and faithfully reproduces our Factory Team Driver Elliott Boots Set-up.
LIMITED EDITION
The EUROS EDITION is produced in a limited number of 300 which means only a few people round the world will be able to have this amazing new product among their collection. The combo includes R7 EVOKE EC15 engine, 2104 Pipe both signed by Elliott Boots, S manifold and REDS Quattro Clutch System. To certify the originality, each piece comes with a quality control certificate signed by Elliott Boots and by Mario Rossi.
SPECIAL SLEEVE
R7 EVOKE engine signed by Elliott Boots features a special 7 port inlet, exhaust port with boosters which is only available with this special edition and includes special tuning by Mario Rossi that guarantees low fuel consumption and improved power delivery.
GEN2 VENTURI
The new Revolutionary GEN2 venturi guarantees improved fuel mileage and higher torque. The GEN2 venturi is one of many new changes only available with this special edition. The innovative design improves carburetor fluid dynamics for a even better tuning stability. The GEN2 venturi is available in 6.0, 6.5, 7.0 mm diameters.
To Buy Elliott Boots Euros Limited Edition Combo Reds Engine in the UK Click Here
The Kyosho Inferno, the world's most successful line of RC racing machines in 1:8 off-road, is adding another evolution of the intrepid MP9 to its line-up - The TKI4. The new TKI4 is set to release in April and is targeting victory at the upcoming IFMAR 1:8 Off-Road World Championship in Las Vegas later this year. Made 100 percent in Japan to the most demanding specifications, the MP9 TKI4 is the most finely tuned masterpiece of the MP9 series. Stay tuned for more details.
TKi4 NOW IN STOCK / TKi4 NOW IN STOCK / TKi4 NOW IN STOCK / TKi4 NOW IN STOCK
Open Times: Monday - Friday 10.00am - 6.00pm, Saturday 11.00am - 3.00pm, Sunday Call to check
RADIO CONTROL MODEL SHOP - RC CARS - OFF-ROAD RACE BUGGIES - 1/10 SCALE ELECTRIC - 1/8 SCALE NITRO/ELECTRIC
RC TOYS - FAST UK DELIVERY - SECURE ONLINE SHOPPING - FREE UK DELIVERY OPTION ON ALL ORDERS OVER £199.00*
(*Free Delivery Option to Mainland UK, 3-5 working days on Orders over £199.00 placed before 3pm Mon-Fri)
Your best choice for RC Model Shops in Harlow, Essex and the UK
Big Hug Creative Ltd, RCTFB F7 Allen House, The Maltings, Station Road, Sawbridgeworth, Hertfordshire. CM21 9JX United Kingdom
Telephone: 07515 543818  Email: This email address is being protected from spambots. You need JavaScript enabled to view it.
Signup to our Email List FREE Click Here
Open Times: Monday - Friday 10.00am - 6.00pm Please call first for stock availability.
Open Times: Saturday 11.00am - 3.00pm, Sunday Call to check
Find Us on Google Maps Click Here
All images are subject to copyright.

Remote Control and Radio Controlled Toys for Boys, Big Hug Creative Ltd, RCTFB. Passionate about RC.