Fastime 14 Stopwatch The Best Stopwatch for RC Racing
FAST14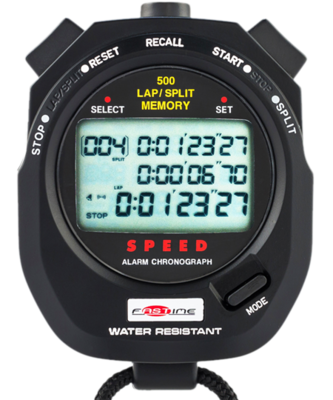 Price :
33.33
GBP
In stock
This stopwatch shows lap counter, cumulative and lap split time to the last split, cumulative and running times. 500 Lap/Split memory. It has a rugged water resistant and shock resistant case. Ideal for RC Racing.

Please Note: Optional Stickers shown in the photos are Included in the Box for you to choose to apply them.
Split Timing:
Top Display shows cumulative time to last split.
Middle Display shows previous split lap time.
Bottom Display shows the cumulative running time.
Memory Recall:
Press Recall anytime to recall memory.
1st display shows fastest lap number and time.
Press Recall again for slowest lap details.
Press Recall again for average lap time.
Press Recall again for each split time to show split times starting from the first split.
Each display shows the split number, the lap time and cumulative time.
Press Recall again to return to current running time.
Digital Quartz Stopwatch
Comes with an Easy to Follow Instruction Manual for the following languages:
English
French
Spanish
Portugues
Stopwatch with a unique data recall mode which enables you to store batches of split times as segments in memory. So that if you were timing a series of races. The lap times for each race can be stored in memory as one segment. The time of day that the race or event was started is also stored.

Stopwatch, Data recall, Repeating Countdown/up timer, Pacer, Speed, Stroke rate, Alarm and time, day date display.
It has a rugged water resistant and shock resistant case.
Functions Include:

Stopwatch
Pacer
Speed Conversion
Stroke Rate
Time of Day
Alarm
Stopwatch:
Measures up to 19hrs 59mins 59 secs 99/100ths sec. Triple display shows lap counter, cumulative and lap split time to the last split, cumulative and running times.
500 cumulative and split times can be stored in memory with fastest, slowest times identified. Time out (start, stop, resume) function is also included.

Data recall:
The number of free (unused) memories is shown first.
For each segment, the segment header display will show:
The date and time stamp when the segment was started
The segment number
The number of laps stored in the segment
When the required segment is selected, press the recall button consecutively to read through all the lap and split times within each segment.

Repeating Countdown/up Timer:
Maximum setting 19hr 59min 59sec, display shows TARGET TIME, and COUNTING DOWN TIME. Alarm sounds at the end of each countdown/up.
Pacer Function:
The pacer value can be adjusted from 05 to 240 PACES per minute. The display shows the TARGET COUNT PER MINUTE. Use this function to set and measure a required number of actions per minute. Pressing the split button increases the target count per minute.
Speed Mode:
Enter a distance over which time is to be measured, for example a racing circuit of 1 mile (or km). The stopwatch will then show the lap time and speed for each lap. Speed is measured in units per hour. Therefore speed = distance x 60.
Stroke Rate:
Measures a sample of 3 strokes or actions and returns a frequency or rate per minute. Press the start button to begin measuring the stroke rate. Display counts down from 180. Press again after 3 strokes and the display shows the rate per minute. Ideal for swimming or rowing.
Time of day display:
Hour, minute, seconds time of day with 12/24 hour option. Year month day date.
Alarm display:
The top display shows the alarm time set. Middle display shows the date and lower display shows the time of day.
Battery
CR2032
Size
Length: 70mm, Width: 60mm Depth: 18mm, Digits: 6mm
Features
Repeating countdown/up timer, pacer, speed conversion, stroke rate, time of day and alarm.
Functions
Function
Option
Description
Cum Split
Yes
Start - Split (split time from start)
Lap Split
Yes
Start - Split (split time from last split)
Memory
500 Segments
The number of split times stored in memory
Pacer
Yes

Pacer:
Set pacer to beep at a given frequency per minute

Pacer timer:
Links to pacer to a stopwatch to give times per frequency

Running Time
Cumulative/Lap
Speed
Yes
Displays the speed in mph/kph for the distance entered
Stroke Rate
Yes
Returns number of strokes or events per minute on a measure of three strokes or events
Time of day/date
Yes
Time of day in hours minutes seconds
Time Out
Yes
Start - Stop (time out) - restart or reset
Timer
Yes

Timer Count down:
Counts down to zero from an entered time

Timer Count down/up:
Counts down from an entered time to zero then counts up

Timer Count Down:

Timer Count Down Repeat Counts down from an entered time to zero then repeats the countdown until stopped